hotels and apartments
sport and leisure
localities
information
Ski and snowboard rental Rindole ski & bike
Andalo - p.zzale Paganella 1


Telephone: (+39) 04615856...(+39) 0461585680
www.noleggioandalo.it - info@noleggioandalo.it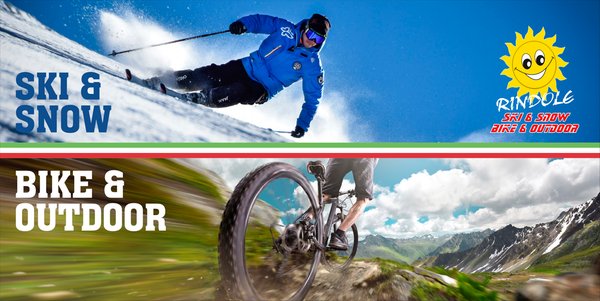 In the ski and snowboard rental Rindole Ski & Bike you can not only rent the necessary equipment for your holidays on the snow, but you can also use the ski and snowboard storage of the shop.
Rindole Ski & Bike is located directly on the ski slopes and was created by the teachers of the italian Skischool Nuova Andalo in order to fulfil all the needs of families.
The shop has all the latest products and pays particular attention to children; here you will find the proper equipment for all ages.
In the storage of Rindole Ski & Bike you will find lockers with ski-boot dryer.
At Rindole Ski & Bike you can also rent the equipment for your summer days in the mountain: bikes, e-bikes, Nordic walking sticks...and much more!
Reviews
This business activity has no reviews yet.
Write the first positive review, share your experience!
Map
Ski and snowboard rental Rindole ski & bike
p.zzale Paganella 1
Andalo
GPS coordinates
lat: 46.1638° N lon: 11.0039° E
lat: 46° 9' 49.9'' N lon: 11° 0' 14.1'' E