hotels and apartments
sport and leisure
localities
information

Your search
Molveno: Hotels, B&B, Residence and holiday apartments
A cozy house, a delicious and well-finished cuisine in an atmosphere that reflects the typical poetry of the mountains... this is the idea of hospitality at Alpotel Venezia. Here in Molveno nothing is actually out of the ordinary, yet everything has a special charm!
The Lago Park Hotel is located on the shores of the Molveno lake, surrounded by greenery and with a breathtaking view of the Brenta Dolomites. It offers a 2000 sqm park, panoramic garden and veranda, outdoor heated swimming pool, equipped beach, car park and much more.
deals
06/06 - 26/06/2021

from 60€ per night
Characteristics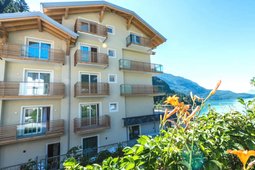 This modern and cosy, family-run hotel enjoys a wide and spectacular view on the Lake Molveno and the Brenta Dolomites. It is run with care and passion by the Donini Family. It offers a privileged gateway to Molveno, a few minutes walk from the Lake.
The Hotel Miralago, located in Molveno, has been representing the tradition of hospitality since 1886. The hotel is in the centre of the village, it has a wonderful view of the lake and a big garden (6000sqm).
deals
13/06 - 20/06/2021

from 280€ per week

13/06 - 20/06/2021

399€ per week

05/04 - 27/06/2021

from 65€ per night
Characteristics
Leave the confusion and stress of everyday life behind you and be captivated by the enchanting landscapes of the Brenta Dolomites Mountain Group, experiencing and enjoying to the fullest the deep blue skies, and the majestic mountain peaks.
The Residence Betulla is located in a quiet and ideal position, just 2 minutes on foot from the amazing beach of the Molveno Lake. Nearby guests will also find the recreational area with its playground, tennis courts, swimming pool, dock and boat rentals and the mini-golf.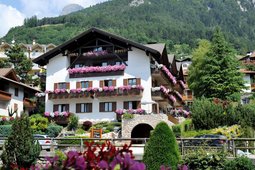 Welcome to Trentino at the Residence San Carlo on the Molveno Lake. The residence features a beautiful, quiet location away from the traffic of the main street but at the same time only 150 meters from the picturesque town of Molveno.
Lorenza is very glad to welcome you in her apartment! You will stay in a lovely and cozy attic on the third floor of an independent house, close to the lake and less than 5 minutes on foot from the historical centre of Molveno.
Alpenresort Belvedere Wellness & Beauty in Molveno Trentino Alto Adige is situated along the shores of the Molveno Lake in Trentino Alto Adige surrounded by the breathtaking view of the majestic Dolomites of Brenta.
Welcome to Casa Cristina! The house is situated in a very quiet and sunny position, at the foot of the Brenta Dolomites, Unesco world heritage, and few steps away from the wonderful lake. The guests are welcomed from the hosts with smile, friendliness and warmth.
Granting direct access to the Molveno beach, Garden Hotel Bellariva features a large lawn with playground and heated whirlpool, from which you can admire the beautiful shores of the lake and the Brenta Dolomites.