hotels and apartments
sport and leisure
localities
information

Your search
Fai della Paganella: Hotels, B&B, Residence and holiday apartments
The hotel Belvedere is located on the Paganella plateau, only few km from the motorway and in the enchanting village of Fai della Paganella. The family Endrizzi has been running the hotel for years with love and wisdom.
Located in the village of Fai della Paganella (in the Brenta Dolomites group), the Apartments Aquilone are located in a modern house in a very panoramic position, close to the main street, the main facilities and several beautiful paths.
The farmhouse Florandonole is located only a few steps from the village square in Fai della Paganella, in the Brenta Dolomites. The house is located amid greenery and from April onwards it is surrounded by vast, green meadows, hills with hazel and juniper trees and lilacs.
Both the apartments are family friendly and ideal for you to spend your holidays in Fai della Paganella. The ground level floor is a 70 square meters apartment composed of one large master bedroom and a bunkbeds one.
The project was born from unconditional love for this land, its traditions and contemporary modernity. Staying in a Montanara chalet is more than a holiday. It is to be captured by the beauty of the place and its infinite horizons.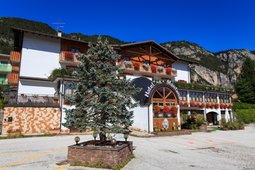 Discover the beauty of the Brenta Dolomites at Hotel & Residence Montana!The ideal place for a dream holiday in harmony with nature to regenerate body and soul. The hotel is located in Fai della Paganella, in a central position.
Cortalta Mountain Lodge is located 500 metres from the Paganella ski lifts and 500 metres from the village centre, and enjoys an amazing view of the surrounding mountains. It has comfortable and bright flats, all with two bathrooms and various sizes, up to 9 beds.