Paganella and Brenta Dolomites, Trentino

Your search
3-star-hotels Paganella Plateau
A cozy house, a delicious and well-finished cuisine in an atmosphere that reflects the typical poetry of the mountains... this is the idea of hospitality at Alpotel Venezia. Here in Molveno nothing is actually out of the ordinary, yet everything has a special charm!
offers
06/09 - 27/09/2020

from 46€ per day

01/09 - 10/10/2020

from 47,36€ per day

05/01 - 31/01/2021

from 42€ per day
Characteristics
The hotel Belvedere is located on the Paganella plateau, only few km from the motorway and in the enchanting village of Fai della Paganella. The family Endrizzi has been running the hotel for years with love and wisdom.
offers
17/07 - 31/07/2020

from 50€ per day

22/08 - 05/09/2020

from 87€ per day

13/06 - 27/09/2020

from 72€ per day
Characteristics
Located halfway between the Fai della Paganella village (700m) and the ski slopes (700m), the Hotel Arcobaleno faces the Adige valley in a panoramic position and is surrounded by the breathtaking Paganella mountain summits, a short distance from the local bus stop.
offers
01/07 - 15/09/2020

from 836€ for 6 days

06/07 - 30/09/2020

from 45€ per day
Characteristics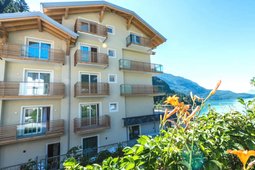 This modern and cosy, family-run hotel enjoys a wide and spectacular view on the Lake Molveno and the Brenta Dolomites. It is run with care and passion by the Donini Family. It offers a privileged gateway to Molveno, a few minutes walk from the Lake.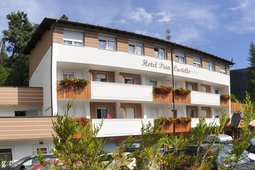 Welcome at the Hotel Pian Castello in Andalo! The family-run hotel is owned by the family Pittigher, who will welcome you with the typical hospitality and courtesy of Trentino!
The Lago Park Hotel is located on the shores of the Molveno lake, surrounded by greenery and with a breathtaking view of the Brenta Dolomites. It offers a 2000 sqm park, panoramic garden and veranda, outdoor heated swimming pool, equipped beach, car park and much more.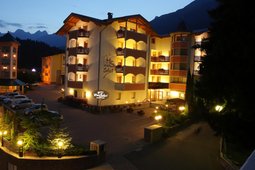 Welcome to Hotel Select! It's situated in the center of Andalo, opposite of the town hall, near to the Paganella main lifts and the Andalo Life Park. The hotel was built by Bottamedi family in 1985 and since then it was renovated many times.
The Hotel Splendid is located 300m from the centre of the village and 250mt from the ski lifts which bring you to the Paganella summit (mt.2125), starting point of the same wanderful skiing carousel.